Profiles of some of past members of the Winnipeg Sketch Club

Alex J. Musgrove
Born 1882, in Edinburgh, died 1952 in Winnipeg. Came to Winnipeg in 1913 as curator and teacher of the newly founded Gallery and School of Art. In 1914 he founded, and was first president of "The Winnipeg Art Students Club" (later Winnipeg Sketch Club). Later taught in private art school "The Studio". He was curator of the Winnipeg Art Gallery 1932-49. Painter, teacher and very influential in the art life of Manitoba. He was president of the MSA, 1931-35. Retrospective Memorial Show: Winnipeg Art Gallery 1964.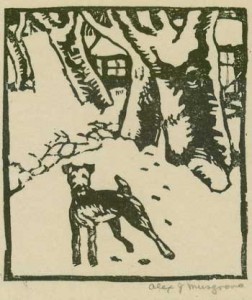 untitled woodcut
collection of Joyce Davies
Charles Comfort
A Scot whose family immigrated in 1912 to settle in Winnipeg, he worked in commercial art in Winnipeg before moving to Toronto. He frequently returned to Winnipeg, but found being close to the Group of Seven and the centre of activity in Toronto important. His landscape work was matched by some memorable figurative images which have prompted comparisons with the American regionalist painters of the Depression.Comfort went on to be President of the Royal Canadian Academy 1957-60 and Director of the National Gallery of Canada 1960-65.1
Comfort held weekly two hour life model drawing sessions in his Toronto studio at 25 Severn Street in 1929 and 1930. These were regularly attended by Lauren Harris, A.Y. Jackson, George Pepper and Kathleen Daly. The model was paid $1.50 per hour with each of the artists present contributing to the fee. It's fairly safe to assume that these sessions had their inspiration in Comfort's previous experience at the Winnipeg Sketch Club.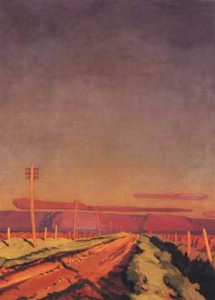 Prairie Road 1925
Hart House permanent Collection
Charles Comfort (1900 -1994)
Lionel LeMoine Fitzgerald
Brought up in Winnipeg, he remained rooted there all his life. Important visits to the U.S., including as a student in the early 1920s, convinced him of the historical importance of classic modernism, particularly the work of Seurat and Cezanne. Teaching at Winnipeg School of Art occupied much of his time and his art moved slowly but surely, culminating after the Second World War, in delicate still lifes and abstract work which only have become recognized as ranking alongside his landscape masterpieces of the 1930s, when he was briefly a member of the Group of Seven.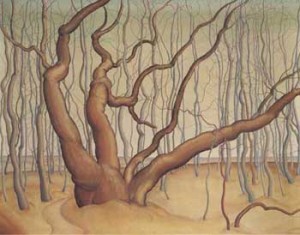 Poplar Woods 1929
Winnipeg Art Gallery collection
Lionel LeMoine FitzGerald (1890-1956)
Frank Johnston
Johnston is an enigmatic figure. One of the original Group of Seven, he emerged from a Toronto education and a background in commercial art. He produced some of the most distinctive images in the Group's early exhibitions, yet his work became formalistic and decorative. After he left Toronto to be Principal of Winnipeg School of Art, 1920-24, he became distant from the Group, and by the time of his return to Toronto in the later 1920s became more hostile, eventually being one of the signatories to the petition raised against the National Gallery of Canada in 1932 as a protest by the Royal Canadian Academy.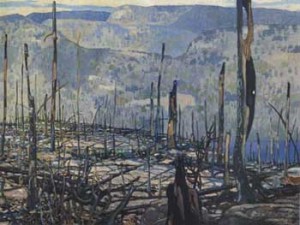 Fire Swept Algoma, 1920
National Gallery of Canada
Eric Bergman
Born 1893 in Dresden, Germany, died 1958 in Winnipeg. Moved to Winnipeg on 1914 where he spent the rest of his life as a commercial artist with Brigdens Ltd.He was mostly self trained and developed a technique in wood engraving. He created very delicate drawings in pencil and silverpoint. Widely recognized during his lifetime in national and international exhibitions. He was president of the MSA, 1940-45.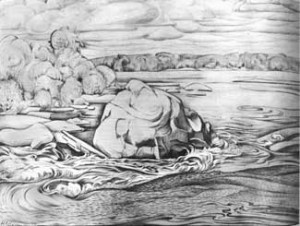 Victoria Beach, 1938, silverpoint
Winnipeg Art Gallery
Jack Markell
Born 1919 in Winnipeg. Studied in Winnipeg and at the Art Students' League in New York. Painted and taught at his own art school in Winnipeg. Moved to the West Coast around 1960.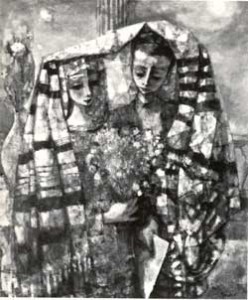 The Wedding Shawl, oil on masonite,
Winnipeg Art Gallery
Lynn Sissons
Born Portage La Prairie. Moved to Winnipeg in 1922. Studied with Frank H. Johnston, L.L. FitzGerald, Walter J. Phillips, Joe Plaskett and George Swinton. Well known for her water colours, mainly of the Lake of the Woods area. She was president of the Sketch Club in 1925-26 and had a One-Woman Show at the Winnipeg Art Gallery in 1963.
The Sketch Club awards the "Lynn Sissons Award" each year at its Annual Juried Exhibition to an artist whose work is judged to best exemplify the watercolour tradition. The monetary value of this award is derived from interest accumulated on an endowment left to the club by Miss Sissons.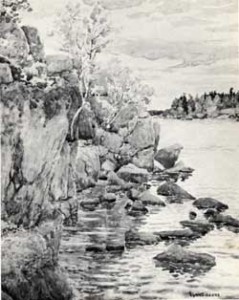 Rocks by the Docks, watercolour, 1961
collection Mr.and Mrs. W.J. Sissons, Medicine Hat